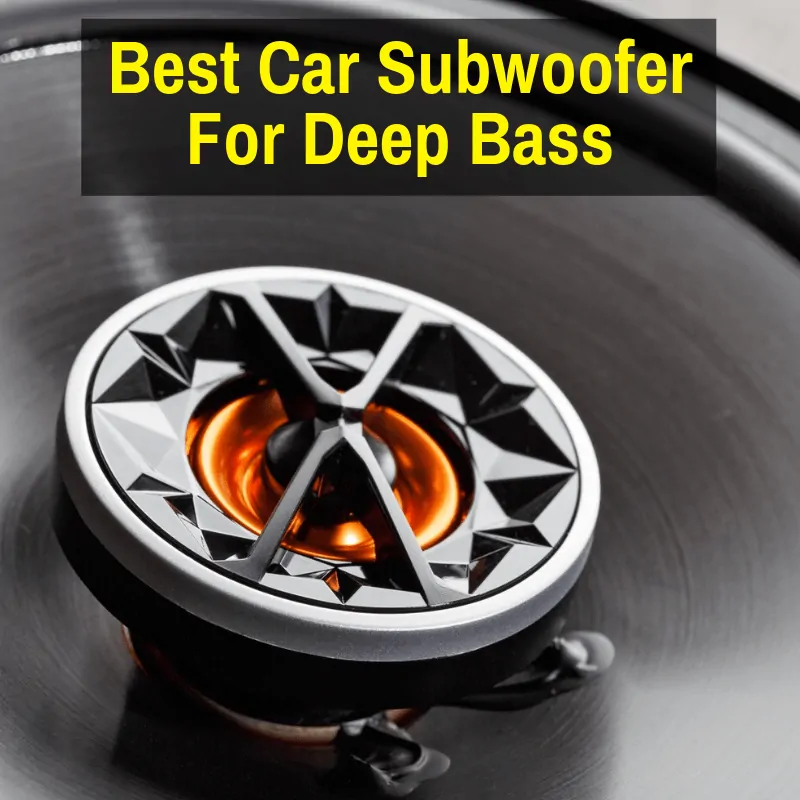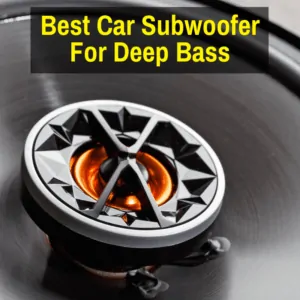 Is a subwoofer that important to your car's sound system?
It is.
Bass is the most noticeable difference in terms of distinguishing a premium audio system and a stock audio system. The lower notes bass provides will round out the audio in your system, so you'll enjoy the best sonic experience possible.
Even if you don't listen to bass-heavy tracks, a subwoofer will still boost the audio quality of your car's sound system.
But only the best car subwoofer for deep bass can deliver the type of sound you need and want.
That's why we wrote this guide.
We want to make sure you avoid all of the overpriced and low-quality models on the market and get a subwoofer that actually delivers clean, deep bass sounds.
Not only that, we want to make sure you get the sub that works best with your other components and with your model of car.
Adding More Bass to Your Life
Newer car stereo speakers can easily reproduce higher frequencies that sound clean, but the smaller the speaker the less bass you can expect, in addition to an increase in distortion.
They also have to fit into tight spaces, such as dashes or car doors, because our hearing is designed to detect the source of audio in these types of spaces. If our ears are not able to easily discern right and left speakers, car audio systems can sound out of balance.
But subwoofers don't have this type of constraint.
This is because they produce sound waves that are too long for the human ear to detect a source. That is a good thing considering the length of those notes are the exact reason why a speaker needs extra space and size to go low.
Since subs provide non-directional audio, they can be placed under a seat or in a trunk, where more space is available.
That means size is not as big a factor as it would be with a component like speakers. But there are plenty of other factors you need to consider when buying a sub. And a lot of different subs to sift through.
Since subs have been popular for years, there's no shortage of models to choose from on the market, which can make it difficult for you to find a high-quality sub that will meet your listening needs, one that will be compatible with your current audio system, and one that will work with your budget.
We've researched many of the leading models on the market and narrowed it down to five models that provide the best bass for a price that's affordable. Many of these models also feature a slim design, so they'll work for any car owner who is tight on space.
Additionally, we also found a dual sub setup designed for the serious audio enthusiast. Basically, we have a sub for everyone.
If you don't have a big budget to work with, a lot of interior space available, or you're looking for a booming bass system that will have your friends drooling, read on to get an in-depth look at our top choices.
But before we dive in and briefly go over the top five choices, below you'll find a comparison chart that details the similarities and differences between each of these models.
Top Car Subwoofers Comparison Chart
The 5 Best Subs For Deep Bass
These brief summaries of the leading models of subs for cars will showcase some of each model's best features, power capabilities, RMS ratings, and more.
Best for Deep Bass: Rockville RW10CA 10″ 800 Watt Slim Low Profile Active Powered Car Subwoofer
Our Rating: (5/5)
This Rockville subwoofer brings the bass. This is an active subwoofer that can even give passive models a run for their money. It's also our top-rated model. This sub is not only powerful, but it also features a compact, slim design that allows you to easily slide and install it under your car seat.
The sub's included controls allow users to tweak the bass settings for optimal sound, based on music genre, while its two hundred watt RMS rating will work to round out your system's audio. A great buy if you're looking for a model that's compact, affordable, and easy to install, you can't go wrong with this subwoofer by Rockville.
Top Passive Subwoofer: Skar Audio VVX-15v3 D2 15″ 1200 Watt Max Power Dual 2 Ohm Car Subwoofer
Our Rating: (4.5/5)
Skar Audio's latest fifteen-inch subwoofer is all class. Its six hundred RMS rating provides more than enough bass for a smaller setup, offering a responsive and accurate low-end reproduction that you won't find in other subwoofers in this price bracket.
The included enclosure is also top of the line, providing the type of full bass sound that lower-priced enclosures can't handle. Ultimately, if you're in the market for a powerful and affordable sub that comes loaded with all the right features including an amp, enclosure, and easy installation, then this Skar Audio sub delivers.
Most Innovative Design: JL Audio 12″ 600W Dual 4-Ohm Car Subwoofer 12W6v3D4
Our Rating: (4.5/5)
This passive twelve-inch JL Audio subwoofer is popular for all the right reasons. The unique patented cooling structure inside the sub works to prevent it from overheating, even with extended use. Overheating is a common problem with most subs, however, JL Audio has thought of everything, ensuring this subwoofer is built tough and designed to last year after year.
This sub offers a much tighter bass sound with reduced distortion. The ultra-long coil design works to improve bass handling, so you'll only enjoy a pristine bass sound. JL Audio is often known for their higher priced sub lines, and while it's true that this model is a little on the pricey side, once we heard how it lifts even a stock sound system we realized this sub was worth every penny.
Best Under the Seat Sub: Kicker 11HS8 8″ 150W Hideaway Car Audio Powered Subwoofer
Our Rating: (4.5/5)
The Hideaway subwoofer by Kicker is a model that can fit in even the tightest of spaces. The included remote control allows you to easily adjust the level of the bass on a track by track basis, which is a huge selling point for most potential buyers.
It also features a fifty RMS rating, which may not be enough to carry certain systems or for those who listen to bass-heavy tracks often. However, this sub would be a great addition to your stereo system if you're looking for a moderately powerful sub that can round out your sound.
Best Value: Pyramid BNPS122 12″ 1200W Dual Car Subwoofers and Amp Kit
Our Rating: (4.5/5)
This Pyramid setup consists of two subs in one enclosure. The large bulky design of the enclosure will make it a poor choice for potential buyers who simply don't have the trunk space, but for those that do, this is the set that can take your sound system to the next level. Each of the subs features a two hundred and fifty RMS rating, for a total rating of five hundred.
Together, these subs provide a full rich bass sound without the distortion that other subs in this price range are known to produce. Pyramid has designed a sub system that can still provide the type of bass you need for a variety of genres, without sacrificing sound quality. What more could you ask for?
Subwoofer Buyer's Guide
A sub works on the same principle that a basic car speaker does, which means they will make sound by moving air. Yet, the sub's construction is slightly different compared to a standard speaker.
Subs are designed to move an increased amount of air by producing more powerful sound. Because of this, the sub is perfect for low bass sounds and they're ideal when it comes to producing low and strong frequencies.
A sub will produce strong, low bass sounds that may not be audible to the human ear, however, you will be able to feel it because the sound waves are much stronger compared to those from standard speakers. When it comes to creating a full sound, bass and subs are very important.
The speaker cone in subs is much larger than what you'll find in regular speakers. Their size is meant to allow for more movement.
These speakers are contained inside an enclosure, which will separate the air movement from the back and the front of the cone. When the air is not properly separated, the sound is not delivered as it should be, which results in poor sounding bass.
To date, the most common types of subs include:
Active: Active bass features its own power source that's built inside.
Passive: These subs must be connected to an amp in order to operate.
The best car subwoofer for deep bass is designed to reproduce low frequencies. Regardless of the type of music you regularly listen to, this type of subwoofer can really boost your listening experience.
Because car speakers are small, they often have difficulty producing low-frequency sound, which can cause your music to lack depth and realism. Subs can make all the difference when it comes to a stellar sound system and a decent sound system.
Personalized Systems
If you want to select the different components in your sound system, your search should begin with component subs. This type of sub should be mounted in a sub box in order for it to operate properly. Additionally, the sub will need to be powered with an external amp.
These subs often come in sizes ranging from six to fifteen inches. They're designed to operate on high or low power and are compatible with a variety of sub enclosures.
There are many different voice coil and impedance setup options, so you can select from a variety of subs and find one that will match well with your existing system. If you're starting a sound system from scratch, then choosing a sub is usually the best place to start.
Enclosed Subs
These subs are pre-mounted and sold in a special enclosure that's designed to accommodate it. This means you won't have to do much in terms of building and designing your own setup.
However, you'll be limited in regard to how many enclosure types and speaker options you'll have. You'll also still be required to use an external amp for power.
Space-Saving Subs
The powered sub combines the woofer and amp in a single enclosure, so they're a great way to go. Since there's a built-in amp, you only have one piece to deal with.
Most powered subs are very small and won't take up too much space in your car. Yet, while they can be great in terms of saving on some serious space, they don't tend to provide the type of sound power many people are looking for when it comes to deep bass. However, for some, their small size and simple installation still make them a great add-on for basic stereo setups.
A Sub That Will Work With The Look You're Going For
If possible, go for a vehicle-specific subwoofer. You can find both unpowered or powered options. These subwoofers are basically designed to fit in tight spots in SUVs, trucks, and cars.
They're also usually designed to match your existing interior, which is a big deal for some vehicle owners. However, they may not be the best option if big bass is what you're looking for. If you simply need a sub that will round out your sound system, this type of bass will work for most listening needs and all without taking up too much interior space.
Important Specs to Pay Attention to
Once you've decided on the style of sub you want, comparing the specs is a great way to help narrow down your choices. Below you'll find some important specs to keep an eye out for.
Power
If you're looking for a sub that can make your system really boom, then look for the model that offers the most power. Make sure you pay close attention to a sub's RMS power rating instead of its peak power rating.
The RMS rating will measure the output or continuous power handling and it's considered a more realistic way to measure power when compared to a sub's peak power rating. Be sure you match its power handling with an amp's power output rating.
Sensitivity Ratings
In order to achieve a high output, a sub's sensitivity rating goes hand in hand with its power rating. Models that feature a higher than average sensitivity rating won't need as much power as models with a lower sensitivity rating.
Frequency
In terms of how low a sub can play, the frequency range is the spec that will give you the best idea of what you can expect in terms of bass quality. However, you should keep in mind that the sub's performance will depend on a variety of factors, including how it's mounted.
Enclosure
The sub's enclosure will have a major impact on the type of sound it can produce. Commonly, a sealed box will provide the most accurate, deepest sound. If you're looking for an enclosure that can produce more volume, then you'll want to go with a bandpass enclosure.
Impedance
Most models will feature an impedance rating of four OHMS, however, two to eight OHM models have also become pretty common.
When you choose a sub, look for an amp that can match your subwoofer in terms of impedance and power. There are several styles and types of amps to choose from, so finding one that can bring out your sub's full potential shouldn't be a problem.
Sub Size
Many sound system enthusiasts want to know what size sub can play the lowest and loudest. But often, this question isn't exactly easy to answer. You'll need to take into consideration the available power, enclosure type, and the sub's sensitivity rating.
If a car owner's goal is to have a system that plays low and loud and space isn't a main concern, then they should go for the largest sub they can find. However, that's not to say that smaller subs can't bring it. A smaller sub that's mounted in the right type of enclosure and powered properly can also produce plenty of sound.
Voice Coils
A dual voice coil is probably the most popular choice for car owners who want more flexibility when it comes to wiring their system. Subs usually have a single voice coil device, while the dual coil models feature a couple or separate voice coil, each of which will have their own connections.
Do You Really Need a Sub For Your Car?
The bass in your car doesn't have to rattle the windows, since even a little bass can go a long way. But enhancing the bass in your favorite tracks can not only improve your listening experience, it's really the only way you can truly feel the music.
Without the addition of a sub, there are parts of your favorite tracks that you may only hear partially, and certain parts that you won't be able to hear at all.
The subwoofer is usually tuned to reproduce frequencies that are below eighty Hz, which will account for such instruments as piano, drums, certain string instruments, and bass guitar.
The speakers in your car are not able to play those types of lower frequencies the way the track was meant to be heard. This means that in many cases, adding a subwoofer will allow you to hear your favorite music all over again, and in some ways, hear it correctly for the first time.
Regardless of the speaker setup you currently have in your car, bass plays a major role when it comes to your overall listening experience.
Many car owners are not sure how to improve car sound or how a sub works. Think of a vehicle like an enclosed room. Installing a sub under a car's seat or in the boot means that the sub will be confined in a small space.
The sound waves the sub produces will be reflected from one wall of the vehicle to another and from the floor to the roof, allowing the sound to bounce within the confined space of the vehicle.
Some frequencies can become louder at some point due to these bouncing sound waves. This can interfere with the sound waves, causing the bass to sound weaker. You can rely on your stereo's EQ to try and balance out the sound, however, by doing so, some listening positions can be negatively impacted.
Fortunately, by choosing the best car subwoofer for deep bass you can find the perfect model that can adequately power your sound system. A weaker sub simply won't provide the type of deep bass you're looking for and can ultimately be a waste of money if your regular car speakers end up drowning it out.
You can also add more than one sub to your sound system in order to reduce the interference caused by sound waves. This can result in smoother frequencies and a full rich sound that you'll enjoy whether you're in the backseat, driver's seat, or in the passenger seat.
A Richer Listening Experience
If you understand how to improve car sound by adding one or two subs to your sound system, and how to use them appropriately, the sub can be very effective.
However, a sub that's not installed correctly or a lower quality sub can have a negative impact on sound quality and your overall listening experience. To learn more, you can click here to read our article on how to put a subwoofer in your car.
What to Avoid
The worst type of sub will provide a very boomy sound regardless of the dynamics or pitch of the bass, which will cause the bass to sound late or slow. On the other hand, a system that's well-configured will allow for a clearer, more accurate mid-range and a much higher output.
If you're not sure what type of sub will work the best for your car, follow our guidelines in this buyer's guide and learn how to pick out a model that will work the best for your existing setup, the amount of space you have, and your budget.
Final Thoughts
If you want the perfect sound system, then you'll need the best car subwoofer for deep bass. However, picking out a sub is not as easy as it sounds, as you have no doubt realized while reading our buyer's guide.
Remember when you're choosing your new sub, pay attention to the type, whether you choose passive or powered, the sub's size, and make sure that the model you choose is compatible with your existing sound system and the amount of space you have to work with.
We're confident that you'll find the perfect sub in our top five list, since each model is designed for power, and offers the ultimate sound quality, versatile installation options, and will work for most budgets.