The BNPS122 subwoofer setup consists of two twelve-inch subs complete with a tough enclosure. This setup may be overkill for some existing systems, but if you're looking for a serious setup, then these two subs complete with a flashy enclosure and a high RMS rating can offer more than enough bass to carry your system and allow you to listen to your favorite tracks the way they were meant to be heard.
Our Verdict
Pyramid has shown us that you can still enjoy a rich, powerful, heavy bass sound, even if you're on a tight budget. This set includes a powerful amp, tough neon lit enclosure, two subs, and all the hardware you need for installation.
The sound is full, rich, and what you would expect from a two sub system. However, considering the enclosure, amp, and sub setup weigh over fifty pounds, this set will not be a good option if you're limited on trunk space.
A set that has it all including an amp, top of the line enclosure, and two subs, you'll be blown away at the type of bass quality this package offers. However, this isn't exactly a space-saving setup. If space is a major concern for you, then you may want to continue looking.
Read on to learn more about what this dual-sub set has to offer in terms of sound quality and performance.
Pyramid Dual Subwoofers And Amp Kit Review: Overview and Features
For some, this is the best car subwoofer for deep bass. This dual sub setup features 1200 watts of max power at four OHM.
It also comes with its own enclosure, an amp, and basically all the bells and whistles you'll need for a multi-sub setup. If you've tried a single sub setup in your vehicle, but it couldn't produce the type of bass your system needs, then a dual system is the perfect solution.
When installed in the perfect place in your vehicle, a dual setup can easily increase the modal density in your vehicle, resulting in a smoother frequency response.
Dual subs will increase a system's dynamic range, minimize distortion, reduce output compression, and basically produce a heavier bass sound, without being boomy.
Pyramid Dual Car Subwoofers and Amp Kit
Style and Design
The subs feature built-in accent lighting, for a look that will make your system pop. The enclosure features bandpass alignment and thick treated black rubber edge suspension for improved bass quality.
On the front of the enclosure, you'll find a window made out of plexiglass. The subs themselves come complete with large silver polypropylene cones and a total of four tuned ports.
The larger enclosure is designed to accommodate the large amp and two-sub design. It weighs 67 pounds, which is why it's typically installed in the trunk.
Power
This system features 1200 watts of peak power. The RMS rating for each sub comes in at two hundred and fifty watts, for a total system RMS rating of five hundred watts.
Amp
The A and B amp comes with a MOFSET power supply at two OHMs, in addition to a low pass crossover, an illuminated logo, and a line output.
Pros
Dual sub setup
Lit, durable enclosure
Two hundred and fifty RMS rating per sub
Low price
Class A and B amp
Versatile
High-quality bass sound
Cons
Large enclosure may make this set unsuitable for smaller vehicles
Related Questions
How Do You Install this Set?
How you'll install this dual set will depend on how much space you have to work with in your vehicle or in the trunk. Since it weighs fifty-two pounds most buyers will opt to install it in the trunk.
However, just because it's in a contained, tight space doesn't mean you don't need to take the proper precautions in terms of securing the enclosure.
If you'd like to learn how to properly secure a sub enclosure in your trunk or your car's interior, click here to read our article on how to put a subwoofer in your car.
What's a Better Option for Compact Cars?
Despite the fact that this set offers optimal sound, for some car owners, the massive enclosure and dual subs won't be a good fit for their vehicle. Under the seat subs are a more popular option for many compact car owners since they take up relatively little space and are much easier to install.
If you're looking for a compact sub setup, we recommend the Rockville Slim Low Profile Powered Car Subwoofer. This model can easily fit under the passenger or driver's seat, as long as there are a few inches of clearance on the top and sides to prevent the sub from overheating.
Is a Sub's RMS Rating more Important than the Power Rating?
RMS stands for root mean square and it refers to the amount of power a sub can handle. A sub's power rating refers to the amount of power the sub is able to handle in short bursts.
Both RMS and power ratings are important since if a sub is pushed beyond their RMS and power ratings you may end up damaging it. In terms of bass quality, the RMS rating is more important to most buyers.
Manufacturers will clearly list both peak power and RMS power ratings on their spec sheets, so be sure to pay close attention to both before you hit that buy now.
Conclusion and Rating
Product Rating: (4.5/5)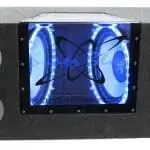 This Pyramid subwoofer setup features a two-sub design for twice the bass. With an RMS rating of two hundred and fifty per sub, the bass quality is nothing short of impressive.
If you're looking for a powerful sub package, this Pyramid dual-sub set delivers. The flashy enclosure and powerful amp also give audio enthusiasts the incentive to buy.
Considering that this package comes with everything you need for installation, we felt that it was a steal for the price. We gave this set a rating of four and a half out of five stars.